Its been a couple weeks since my last Life and Link Love post… first there was our Anniversary, and then I was gone quilting last weekend! This week I'm back with a little about life and some links you simply MUST check out, as well as an intro to one of my fabulous sponsors!
Life Lately…
The #monsterkittens certainly missed me when I was gone last weekend! They haven't let me out of their site since! And fortunately for me, they seem to be sleeping better at night now too! I haven't had to kick them out of the bedroom at 4 am since I got back 🙂
On Thursday I got to hang out with a friend that owns a local fabric store… we had a blast "playing" with fabric, rearranging things and coming up with ideas for the new store she wants to open! There's still a lot to figure out before the new store will be ready to go, but the idea stage sure is a whole lot of fun! Also she has a giant long arm quilting machine and I'm going to get to learn how to use it!! Just waiting for a part to come in and then I'll start practicing on the quilt tops I've made that were too big for my to quilt on my sewing machine 😀
Hubby hasn't been home for 2 weeks. He's supposed to be home for a few hours this afternoon and then head back out… *Sad face* The only good thing about him being gone so much is there are far less dishes for me to do on a regular basis!
Link Love…
This week I discovered the Indie A List! If you love handmade and love to shop from small independent artists (like me!) then you'll definitely want to check this out!
Julie from Coco and Cocoa made some Delicious looking coffee cake and shared the recipe! Pretty sure I'm making this the next time I get together for a coffee date with some of my friends!
I don't have a lap top at the moment, but that doesn't stop me from wanting to make this awesome "Back to School Laptop Bag" from Sew Mama Sew! Also I LOVE the fabrics!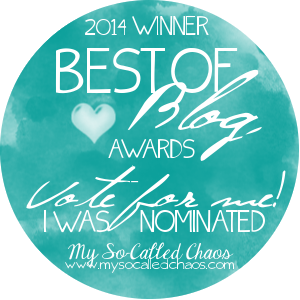 BIG NEWS!!!
Busy Being Jennifer and my Shop,
Homespun Happiness
were both nominated for some
awards at My So Called Chaos
!! I'd really love it if you'd take a moment and head over to vote for me!! **Pretty Please**
And now a word from out sponsor 😉 Well Actually Stephanie is more than just a sponsor! She's a fellow Texan and someone I'm happy to call a bloggy friend! Take it away Stephanie!
Hi ya'll! I'm Stephanie and you can find me over at Wife Mommy Me. I'm a Buckeye trying to find her way in the south. See how I used ya'll in my greeting? That's what Texans do, so I think I'm off to a good start!
I'm a full time SAHM and while I don't earn a pay, the days I spend with our little guy are priceless. My husband is my hero and reminds me daily to just breathe and to stress less, laugh more. Without him, I'd be a hot mess 24-7. Our family blog details our daily to and fros with our baby boy, making Austin home and mixing in as much fun as possible.
Wife Mommy Me has changed so much since I started blogging in 2011. At first I blogged about being a newlywed then on how my husband and I prepared for the arrival of our son. Now it's a mix of my life as a wife and mommy while remembering to take some time for myself. While the content of WMM is always changing the one thing that stays the same is the sense pride I have of how far our blog as come. Not only am I able to share our lives with our friend and family back home, some of my most cherished friends are those I've meet through blogging. I'm constantly amazed with how much support and love my fellow bloggers give!
Come on over and spend some time with me and the boys. Each day is something new and rewarding and well, that's just how we like it!
Check out some of Stephanie's favorite posts :