This shop has been compensated by CollectiveBias, Inc. on behalf of its advertiser, ZonePerfect.
#MyLittleWins #CollectiveBias
Does anyone enjoy being busy? I know I don't, but I will do what I need to keep sane, during those busy days. I own multiple businesses and there are some things I do to help crush those busy days that I may have. Stay tuned because some of these ideas may help you in your own life!
Wake up early
Do you want to know how I crush a busy day? I wake up early. This has been a key component in helping me keep things in order in my day. I wake up around 5 AM and start the coffee pot. From there I get in a little exercise and start breakfast. If you have a lot to get done in a day, try waking up early and see how that helps you get your day moving easier.
Start the Work Day with a Plan
The first thing I do for work is write my lists! I use a happy planner to tack the main life things, as well as important client tasks. I also use a bullet journal to organize my day by task and by time! I love using both of these types of planners because they let me be a little creative (hello fun stickers and colorful markers), and totally organized!
Eat healthy throughout the day
I know we all have our moments, but eating healthy really does help you. When you eat a healthier snack, rather than grabbing junk, you're going to function better. When I eat complete junk, I am sluggish and don't feel well. Eating healthy has been a major way I crush those busy days.
Take a deep breath
What is the point in being busy if you don't take time to enjoy life? I make it a point every day to stop what I'm doing, take a deep breath, and enjoy life. My pups and hubby deserve me at my very best. If I'm always on the go and not stopping to enjoy life, then I'm not doing my best.
Focus on Your "Why"
When I have a busy day, I really try and focus on my why. Why am I doing this? Is it helping me get to where I am? Focusing on my why throughout those busy days really does help me get through. Give it a try!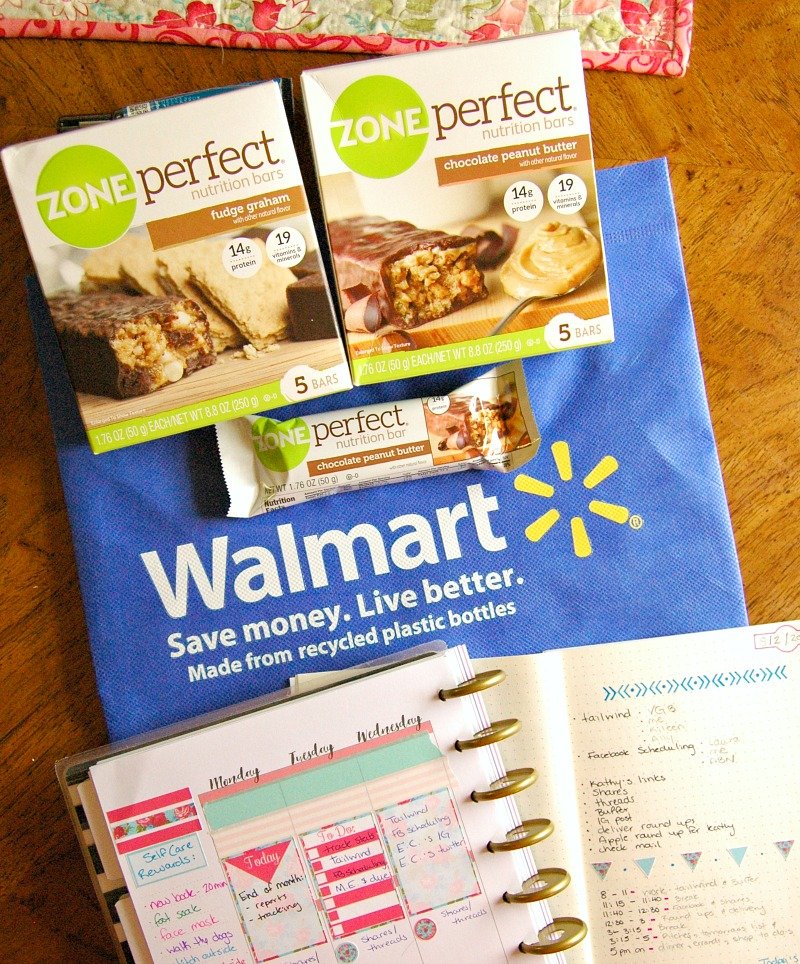 Stock up right here!! Hover over the photo to click through to Walmart.com and buy them!
Stock up on ZonePerfect® protein bars
Have you ever wanted something quick and easy to grab while on the go? I like to keep ZonePerfect® protein bars on hand. These have been little life savers for my busy life. I have learned that these bars can also help me stay focused and on track. Instead of grabbing something unhealthy, I can grab one of these. More protein is always a good thing, especially when you're busy and trying to focus. With these bars, I can have the energy to take on the day and I don't think I can ask for anything more from a delicious protein bar. I pair mine with some fruit to help make my snack time or meal time even more complete. My favorite is the Chocolate Peanut Butter ones and I get mine at Walmart, so be sure to grab your own ZonePerfect® protein bars the next time you are there!
Look at all these yummy bars you can pick up at Walmart.
ZonePerfect® Cinnamon Roll, 5ct
ZonePerfect® Fudge Graham, 5ct
ZonePerfect® Chocolate Mint, 5ct
ZonePerfect® Chocolate Chip Cookie Dough, 5ct
ZonePerfect® Dark Chocolate Almond, 5ct
With juggling everything in my life (businesses, family, pets, etc.), I can celebrate Little Wins™. I can stick the ZonePerfect® protein bars in my purse or eat it while I'm going out the door. Crush a busy day and Celebrate Little Wins in your life every chance you get!
How do you crush a busy day and make the most of your little wins?
#MyLittleWinsSweepstakes (8/4 to 9/12)
PS! You can sign up for ibotta (join my "team" so we can save some $$ together!) and earn $1.00 with the purchase of ZonePerfect® Nutrition Bars at Walmart!
Grab your Free Printable Planner Stickers Here!