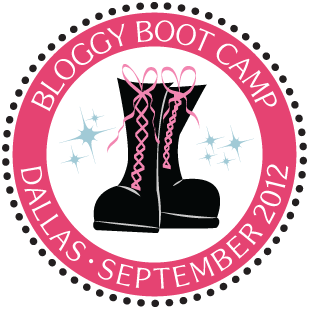 Saturday was an incredible day! From getting to FINALLY meet one of my favorite people in REAL LIFE, to the "famous" bloggers and the overall experience it was an incredible day! I'll tell you right now, if you have the chance to go to a Bloggy Boot Camp, do not hesitate, not for one second! But since you couldn't make it to Dallas I thought I'd share some of what I learned!

(I snagged this from Kelley, but don't worry she's ok with it )
The day started off with Laurie from The Tip Junkie! Laurie has definitely experienced success in the blogging world! She had TONS of fabulous things to share.
Always expect a pay off – don't spend time, money or effort in things what won't pay off. Period
Never second guess a fun idea! – The difference between a successful person and others is not a lack of strength, not a lack of knowledge, but rather a lack of willingness.
Branding! – Branding is what people say when you're not in the room (identity)
I took pictures of all of her slides, and looking back I really wish I had sucked it up and taken my Nikon instead of just our old digital cam, so excuse the awfulness, but I wanted to show you this slide…
(yes I know there are a couple heads in the way, I was in the back of the room!)
I walked away from this session feeling inspired and challenged! I'm trying to write a little bit differently, and definitely think differently.
I will be using this tutorial to make my images more searchable. I'm working with a friend to design a new logo that I can use EVERYWHERE. A new/tweaked design is in the works. And I am definitely going to be doing more with my footer space!
Next up was Cynthia from Nap Warden with "What you really need to know about blog design". She shared lots of slides with designs she has done with tips for how to make your design work better. While I am not a designer, (definitely not one of my strengths!) I walked out of this session feeling empowered! Now I know what I want and need for my next design, and will be more vocal while working with my designer!
Things I need to include in my design…
high quality graphics (new logo!!!)

my own water mark design

cross platform consistency (carrying through the logo and color scheme to twitter, Facebook, etc.)

a kick butt footer area. It's the perfect area for a secondary navigation bar. People might not have been ready to "commit" to following you at the top of the page, but if they make it to the bottom, they just might be ready to subscribe!
I'm really excited to start work on the new project (details coming soon in case you were wondering) and implement the things I learned from Cyn!
Angela from the Untrained Housewife talked to us about ebooks, how they can be a fabulous marketing tool, and how to write one! Of course now the idea of writing and ebook and becoming a published author is now in my brain and added to the list of things I want to do! Its at the bottom of the list at the moment, but its still on there!
If you're interested in writing an ebook here are the basics from Angela's session…
Start with an idea that is not too broad (everything there is to know about knitting), but not too narrow (how to knit purple hamsters).

Write your table of contents. Keeps you focused and can help avoid writers block.

Once its all written, polish it up! – professional images/graphics/cover art. Editing!

Format – presentation is important to readers

Marketing – sell it on your site, create your own affiliate program, amazon

Monetize WITHIN your book! Include affiliate links. (kinda brilliant that one! I never would have thought of it)
After lunch, you had a choice, The Business of Blogging session or the Writers Workshop. Kelley and I had already agreed to split up, she went to the Business of blogging and I went to the Writers Workshop. And boy and I glad that I did!
I learned soooo much about who I am as a blogger/writer and what I want to become. We did some eye opening exercises and had an open discussion about writing! I'd love to share more… but there's just too much information to share about the afternoon sessions 🙂
So come back on Monday and I'll share some more of what I learned